Virtual Summit – Reopening: Innovative Tools & Strategies for Anywhere Learning

Marketing Team
Events on August 07 2020
Virtual Summit, Monday, August 17 – Thursday, August 20
Teq is hosting this free virtual summit to discuss innovative tools and strategies for reopening schools — whether in a traditional, hybrid, or distance learning format.
We would like this to be an open forum where communication is encouraged to get a true understanding of the needs of each school. As always with Teq, there will be opportunities for virtual product showcases throughout the summit and our PD team will be available to answer specific edtech questions.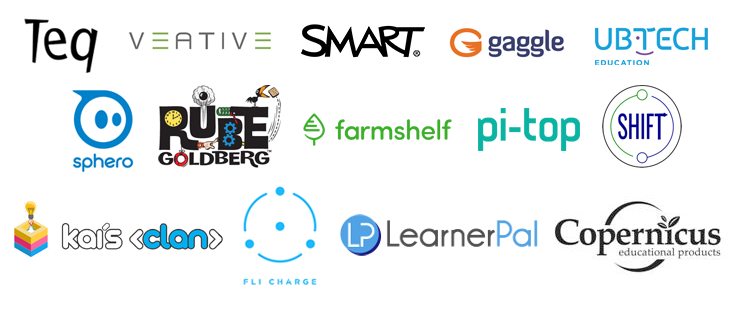 Sessions will be presented live using Zoom and are 45 minutes (30 minutes with 15 minutes for discussion and Q&A).
MONDAY
AUGUST 17

11 AM ET

Effective Organization of Google Drive and Google Classroom

Nicole Mathew, Curriculum Specialist at Teq

Use Google Drive and Google Classroom to get organized! In this session, we'll walk you through strategies for uploading and organizing your files. We will review how to adjust sharing settings and collaborate with your students and colleagues. We will also cover some great ideas for enhancing your workflow and managing documents with these easy to use platforms.

12 PM ET

Supporting Teachers during Distance Learning with PD

Joseph Sanfilippo, Director of eLearning, Chrissy Rebert, VP of Global Instructional Solutions, Teq
Brian Moore, Director of Curriculum and Instruction, East Pennsboro Area SD

Learn how districts across the country used PD from OTIS for Educators to quickly build teacher capacity and confidence for remote learning and how they are using it to prepare for reopening school in the Fall.

1 PM ET

STEM and CTE Integration Strategies for Distance Learning or the Hybrid Classroom Model (with Veative)

Amie Souder, Chief Business Officer, Veative
Charlotte Vann, Marketing Sales Specialist, Veative

During this session, we will explore how virtual labs, simulations, and experiences can be utilized during distance learning to apply learned concepts, build background knowledge, and engage in scientific behaviors. We will also share STEM instructional planning strategies for the hybrid classroom setting. Following this session, 1 attendee will be selected to win WebXR- 1 year subscription for a teacher's class!

2 PM ET

SEL Tools for Active Learning

Chrissy Rebert, VP of Global Instructional Solutions, Teq

Even in the face of social distancing requirements, social and emotional skills development can be built into everyday content delivery. Join Kris, Education Strategist from SMART and Chrissy, VP of Instructional Solutions from Teq in this interactive session discussing how schools are focused on increasing SEL skills in students. We will showcase several approaches that are proving to show results, including increasing engagement, relationship-building, and managing a hybrid schedule for the first time.
TUESDAY
AUGUST 18

11 AM ET

Easy Computer Science Instruction at School or Home with pi-top

Eli Philips, Customer Success Manager, pi-top

Learn 5 ways pi-top helps you teach Computer Science whether in the classroom or at home! Also, we'll talk about ways in which you can implement these solutions with absolute ease. Additionally, we will do a live demo of the product as well as giveaway our flagship product the pi-top [4]!

12 PM ET

Rube Goldberg and Minecraft for Remote STEM Learning

Jennifer George, Steve Isaacs

Please join the team from Rube Goldberg Inc, Minecraft, and NASEF as they discuss their brand new partnership which brings STEM and STEAM into the remote classroom learning environment. They will discuss the minecraft.edu tutorials planned for this Fall based on simple machines and how those lessons will culminate in a digital Rube Goldberg Machine Contest set in the world of Minecraft. Join the fun! Participants will be entered into a raffle for one signed Rube Goldberg kids's book; one Rube Goldberg/Minecraft swag bag (backpack, water bottle and stickers).

1 PM ET

Keeping Students Safe in Any Learning Environment (with Gaggle)

Tim Hodkinson, Gaggle

With platforms like G Suite and Office 365 becoming the central hub of the daily school experience, the need to supervise these digital spaces is now more important than ever. In this session, participants will learn about some of the ways students are using school-issued email, chat, and drive accounts to share their struggles with issues like bullying, violence, and depression. Using real examples and the latest data from Gaggle during last school year, we'll discuss steps school leaders can take to keep students safe regardless of where they're learning.

2 PM ET

How virtual reality can improve student outcomes through diversity, equity and inclusion training (with Shift)

Wendy Morgan, CEO and Founder, Shift
Maggie Hubbell, Co-founder and COO, Shift

In this session, you will discover how virtual reality (VR) is an important and effective educational tool. Maggie and Wendy will demonstrate how the use of VR can help teachers learn to recognize and mitigate implicit bias in their classroom interactions in a life-like and "failure-safe" environment."Virtual reality learners completed training 4 times faster than classroom training and were 275% more confident to apply skills learned after training."


3 PM ET

Safe, Efficient Deployment of Student Devices

Shelley Cameron, National Sales Manager, Copernicus Educational Products

Join Shelley Cameron from Copernicus as she discusses how device storage and deployment could change for the upcoming school year. Topics include:
Managing devices with smaller class sizes, Maintaining social distancing guidelines, Deploying devices to homes or for "grab-and-go" distribution, How schools have been leveraging Tech Tubs in different ways over the past few months, and Other solutions for cleaning or disinfecting. Attendees will be entered to win a Tech Tub for either Chromebook or iPad charging and storage.
WEDNESDAY
AUGUST 19

11 AM ET

The Virtual Tech Coach

Katie Ritter, ISTE Edtech Coaches PLN, Leadership Team

This session will highlight how coaches can adjust to the new normal and maintain the success of their coaching strategies during a time of hybrid or remote learning. Learn how to alter your schedule, coaching programs, and professional development to better suit the world of distance learning.

12 PM ET

Getting Started with Computer Science at Home or in a Socially Distanced Classroom (with Sphero)

Jeremy Macdonald, Sr. Education and Training Manager, Sphero
Michelle Acaley, Sr. Director of Education Program Management, Sphero

It's never too early to start learning the fundamentals of computer science. In this webinar, you'll learn how to develop a foundation for teaching computer science at home, or in a socially distanced classroom in order to prepare young learners for future skills. Plus, we'll highlight Sphero's very own Computer Science Foundations curriculum, which is a great way to accelerate CS in any setting to prepare students for a more in-depth course. You'll walk away with tools to effectively start computer science in your classroom no matter how the start of the year looks.

1 PM ET

Farmshelf for Education

Jared Welker, Chief of Staff, Farmshelf

Learn how Farmshelf, the smart hydroponic 'indoor farming' unit, can be used to feed and empower students through revolutionary food systems.

2 PM ET

Student Engagement: Are They Really Learning?

Amy Lynch, Regional Education Director, SMART Technologies
Giancarlo Brotto, Director, Global Education Adviser, SMART Technologies; Executive Director & Co-founder, Catalyst

In this working session, explore creative solutions to facilitate deeper student engagement. Attendees will be entered to win SMART Learning Suite for their school (up to 100 licenses).

3 PM ET

Powering Learning – Keeping Today's Diverse Educational Devices Charged and Powered with FLI Charge

Todd Word, Business Development, The Bellow Group

From Chromebooks, tablets, and phones to VR headsets, coding robots, and drones, today's schools and students use a variety of high-tech educational tools day in and day out. The one thing all of these devices have in common? They're all power hungry. Schools, teachers, and IT staff have to contend with keeping these devices charged and ready to go at all times while also making sure to plan for future charging needs. Join us to learn about FLI Charge's modular charging solutions that offer a variety of both fixed and mobile charging for K-12. See how FLI Charge's proprietary conductive chargers allow schools to quickly and easily deploy power when and where it's needed, with a focus on: Simplicity / Ease of Use, High-Wattage Power, Multi-Device Flexibility, Long-Term Sustainability. Following this session, 1 attendee will be selected to win one FLI Charge FLIsurface XL (a $500 value).
THURSDAY
AUGUST 20

11 AM ET

Using Microsoft Teams for Remote Learning

Christine Bell, Curriculum Specialist at Teq

Learn how to use Microsoft Teams for remote learning, including creating class, working with students, adding assignments, and video conferencing. This session will include any updates to Teams for the reopening of school. This session is an example of how PD from OTIS for Educators is being used to prepare teachers for hybrid and remote learning environments.

12 PM ET

Simplify Blended and Remote Learning with LearnerPal

Learn how teachers can simplify their remote and blended learning experience, with LearnerPals' Google-integrated solution. Attendees will learn how to assign self-grading LearnerPal activities and courses, as well as learn how to build and share their own! We will highlight existing Middle and High School multilingual content for Algebra, Geometry, Global History and Geography, United States History and Government, High School English, Earth Science, and Living Environment. Additional subjects are available upon request! To make management of remote classes a much easier process, we will also demonstrate how classes are automatically synced from Google into LearnerPal, and how Teachers can assign online activities and courses directly into Google Classroom.


1 PM ET

Active Learning Strategies to Address Learning Loss

Matt Wallace, Education Strategist, SMART Technologies
Marybeth Jones, Education Solutions Consultant, SMART Technologies

Even in the face of blended learning requirements, active learning can be built into daily lessons and utilized to help students close the gap and make progress. In this interactive session, discuss how to increase active learning in any environment. We will showcase several approaches, including increasing engagement, group and independent work, and opportunities to monitor progress and provide feedback in real time. Attendees will be entered to win SMART Learning Suite for their school (up to 100 licenses).

2 PM ET

Engaging Students in Modern STEM Learning, In-Person, Virtually and Hybrid Settings

Rusty Nye, Education Implementation Manager, UBTECH

With the recent changes in the way educators interact with students, UBTECH Education pivoted to create and deliver a full virtual camp experience where students were able to connect with others while learning how to build and program their very own robots. Through our Camp:ASPIRE program, we learned how to successfully deliver high quality STEM experiences without compromising student learning or safety while balancing children's needs. Join us as we discuss lessons learned and explore further ways to engage students in modern and meaningful STEM experiences. Attendees will be entered in a raffle to win one JIMU Robot kit to experience the STEM enrichment first hand.

3 PM ET

Hybrid and distance learning with Kai's Clan — collaborative coding, full STEAM toolbox, and lesson plans

Bruce Jackson, Founder, and Ronel Schodt, Sales and Marketing Director, Kai's Clan

Kai's Clan is a collaborative online coding and robotics platform which can be taught in the classroom at home or in a hybrid environment. Choose the tool that will suit your classroom from our all-in-one STEAM toolbox. If it's coding, augmented or virtual reality, creating robot avatars in Tinkercad and Minecraft, playing with sensors, or choose from our 40 integrated lesson plans. Kai's Clan brings the physical world on our mats together with the virtual world. You can code your robot from wherever in the world you are.
0 thoughts on "

Virtual Summit – Reopening: Innovative Tools & Strategies for Anywhere Learning

"
Related Articles & Other Recommended Reading
PhET Tool in Lumio
Make Science and Math Lessons Interactive with PhET Interactive Simulations Are you looking for a way to make your science or math lessons more interactive? Have you loved using interactive simulations with students? Now it's easier than ever to incorporate your favorite PhET simulations using the new built-in PhET tool in Lumio. The tool, Desmos, […]
[ READ MORE ]
Creating Connections: Meeting your Students' Physical and Cognitive Needs
Physical and Cognitive Development In our last blog series, we discussed how the No Limits Method understands the role of communication & choice in teaching students with disabilities. We saw that many students with disabilities struggle with various learning and language difficulties, and detailed some strategies to further these students' development. In this blog post, […]
[ READ MORE ]
Communication Connections: No Limits Method and Tobii Dynavox
Core Values: Communication When teaching, we all have those times when we question the effectiveness of our lessons. It's hard to miss those blank stares or inquisitive eyes staring back at us. We tend to wonder, at what point did we lose our students and how can we communicate the content in a different way? […]
[ READ MORE ]